The Thiou canal, the natural outlet of Lake Annecy goes through the heart of the town.
It provides inspiration for many artists who love to come and set up their easels here and paint the Savoyard Venice.
The Palais de l'Isle remains the most typical monument in Annecy. Its triangular shape makes itlook like the bow of a ship anchored in the river.
In the 12th century it was the main residence of the Lord of Annecy and was used in turn a the town hall, a court, a mint and then a prison, before becoming an exhibition centre today.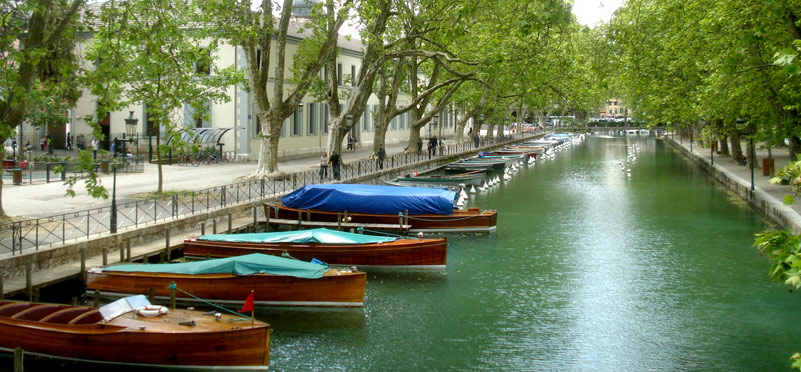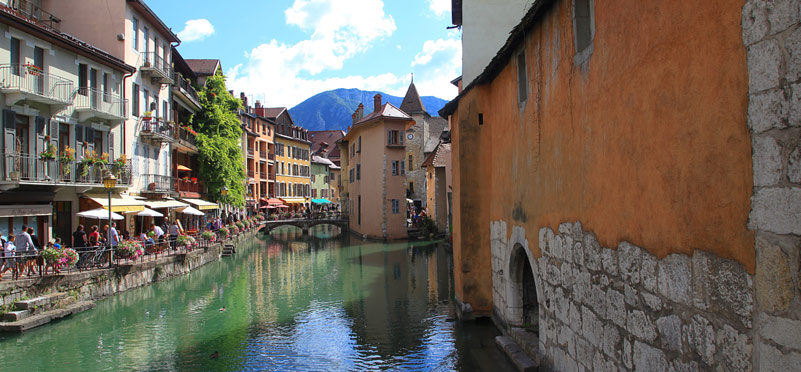 The old distructs of Annecy are mostly pedestrianized.
The walks along the banks are quite unforgetable, and offer delightful and relaxing strolls.
He winding streets with their many little bridges spanning the Thiou bathed in sunshine, are lined with numerous small shops and artisans that will introduce you to many Savoyard specialities…
The Church of St. Francis was built in the 17th century as the chapel of the first monastery of the visitation known as the "Sainte Source" and housed the tombs of Saint François de Sales and St. Jane Frances Chantal.
Adjoining the chancel in the church is the Saint Francis de Sales Memorial which recounts the life of the former bishop who lived in Annecy (1567-1622)
On Tuesday, Friday and Sunday mornings there is a very colorful market in the République and Sainte-Claire streets.
In particular you can taste a vaste range of regional chee
The Pont des Amours spans the Vassé canal that lies between the Champs de Mars and the Jardins de l'Europe where you will enjoy resting in the peace and quiet in the shade of the ancient trees…